I have listened to some audios with an oncologist, breastcancer expert and
surgeon from U.S.A. by the name Beth duPree. According to her we should eat
about 7-9 meals a day of fruits and vegetables to remain our good health.
7 out of 10 people don't get the food they need through their diet.
How many of us do that?
Cardiac deseases is the number one killer of women annually in the U.S. Cancer is
number two and breastcancer is the most common form.
2/3 of all breast cancers can be prevented in a change in lifestyle. Only about 25%
of breast cancer has a family history. 6-10% carries a genetic mutation.
How to reduce oxidative stress:
– Stop smoking
– Improve our physical exercise. You have to find time for exercise. Regular
exercise has been shown to decrease the risk of getting breast cancer.
About 3,5 hours of exercise a week drops a woman's risk about 25%.
– Diet improvement. No fast food.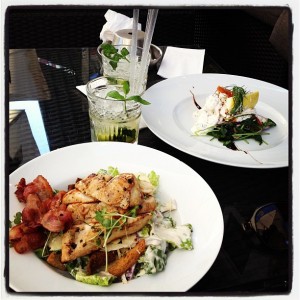 Selective supplementation:
What can I do to change how my body is receiving its nutrients?
If I can't get everything that I need through my diet then I have to look at what other
sources of supplements do I need.
Vitamin D deficiency has been link to an increased risk for breast cancer.
Vitamin D is created through the skin. The sun is the most wonderful source
of vitamin D but not all of us are able to get it. When we wear sunscreens
and we are out in the sun we are stopping the ability to create vitamin D.
Alcohol:
More than 3 cocktails per week can signifcantly increase the women's risk of
developing breastcancer. It can elevate the level of ostrogen in the bloodstream.
For every $10.000 spent in research how to cure cancer there is $1 spent
on research about how to prevent cancer.
//SWEDISH://
Jag har lyssnatpå några audios med en onkolog, bröstcancer expert och kirurg från
U.S.A. som heter Beth Dupree. Enligt henne vi bör äta cirka 7-9 måltider om dagen
av frukt och grönsaker för att bevara vår goda hälsa.
7 av 10 personer får inte i sig den mat de behöver genom kosten. Hur många av oss
gör det?
Hjärt sjukdomar som är den vanligaste dödsorsaken för kvinnor årligen i USA Cancer
är nummer två och bröstcancer är den vanligaste formen.
2/3 av alla bröstcancerfall kan förhindras genom förändring i livsstil. Endast omkring
25% av bröstcancer cancer har en släkthistoria. 6-10% bär en genetisk mutation.
Hur man kan minska oxidativ stress:
– Sluta röka
– Förbättra motionen. Du måste hitta tid för motion. Regelbunden
motion har visat sig minska risken för att få bröstcancer.
Ca 3,5 timmars träning per vecka minskar en kvinnas risk ca 25%.
– Kost förbättring. Inget snabbmat.
Speciella tillskott:
Vad kan jag göra för att förändra hur min kropp tar emot sina näringsämnen?
Om jag inte kan få allt som jag behöver genom min kost så jag måste titta på vilka
andra källor av kosttillskott jag behöver.
Vitamin D-brist är länkad till en ökad risk för bröstcancer.
Vitamin D skapas genom huden. Solen är den bästa källan till vitamin D, men alla
har inte möjlighet att få sol. När vi bär solskyddsmedel och vi är ute i solen
stoppar vi möjligheten att skapa vitamin D.
alkohol:
Mer än 3 drinkar per vecka kan signifcantly öka kvinnornas risk
utveckla bröstcancer. Den kan höja nivån av ostrogen i blodomloppet.
För varje $ 10,000 spenderas i forskning hur man kan bota cancer finns $ 1 spenderas
på forskning om hur man kan förebygga cancer.
//